in English, French or German
🖌️ You've been sharing photos of your art on Instagram but sales aren't coming?
🖌️ You want to make money from your passion but you have no real strategy?
🖌️ You feel overwhelmed by all the information out there & you don't know what to do next?
I once felt exactly the same !
There's been so many times over the past four years when I had the feeling I was investing so much time and energy into my art… without getting enough in return!
So many Sundays polishing my website to make it perfect, hoping to generate more sales… So many late nights on my phone working on a super exciting video, feeling like this was gonna be my breakthrough…
I've tried so many things since the beginning of my art career and I've lost so much energy scattering myself to find what actually works for me.
And when I finally did, EVERYTHING CHANGED. I started getting big commissions without having to prospect potential customers. I felt more confident in my communication, more legitimate when pricing my artwork, more certain about the next step. I stopped running around doing a thousand things to focus on the few ones that actually bring me happiness… and money 😉.
Let's figure out your next step !
This coaching is built in two video calls of 75 min:
CALL 1: ART BUSINESS REVIEW
We're gonna go over your entire business to see what you already do, what you don't do, what you could do, what you could (should 😇) get rid of… I'll check out your website (if you have one), your IG account, your prices, your actual offers and more.
I'll give you 9 possible development axes for your business and I'll help you pick two to focus on (the ones that fit your personality, your desires and your schedule!)

CALL 2: DEFINING YOUR MISSION STATEMENT, YOUR MARKETING STRATEGY & YOUR ACTION PLAN
Who do you really create art for? In others terms, what is your niche? That's a very hard question to reply to as an artist and I will guide you to narrow your answer.
We'll also define together your main offers and I will show you how to establish a concrete marketing strategy for each of them.
Finally, you will write down a plan of action for the next 2 months to put into practice everything you've learned during the coaching:

BONUS: this is a personnalized coaching, which means we'll give a big importance to the topics that matter to you: 
Pricing your art freaks you out? We'll make sure you define a price list that feels right to you !
The idea of talking to potential collectors makes you really nervous? I'll give you all my tips to handle sales talks like a pro !
What you can expect from this coaching:
8 new ideas to make more money with your art
several options for your niche and artist statement
a concrete list of your offers and the marketing startegy to implement for each of them
a "hell yeah I finally know what I'm doing" at the end of the 2 sessions 🤩🔥


What you cannot expect:
a magic recipe to suddenly sell your paintings for 10.000€
I wish I could promise you that but there is no secret strategy that works overnight and for everyone.
What I promise you are 2 hours 30 minutes of individualized advice, positive vibes and Aha-moments, and ending with a new strategy to diversify your business and increase your income! 🚀
This coaching is the right thing for you if...
…your art has become more than a hobby and you wanna improve on the business side 🤑
… you feel like your Art Business is "stuck" and that nothing you've been trying is truly working 🤔
…you're losing your motivation and energy because your sales are too scarce 😩
An important element of this 1:1 coaching? The workbook I have prepared for you! It gathers:
the 9 possible development axes as well as personalized questions to know what suits you or not
a Marketing Strategy template to fill out for each of your main offers
your indiviualized Action Plan to get started as soon as we're done with the coaching !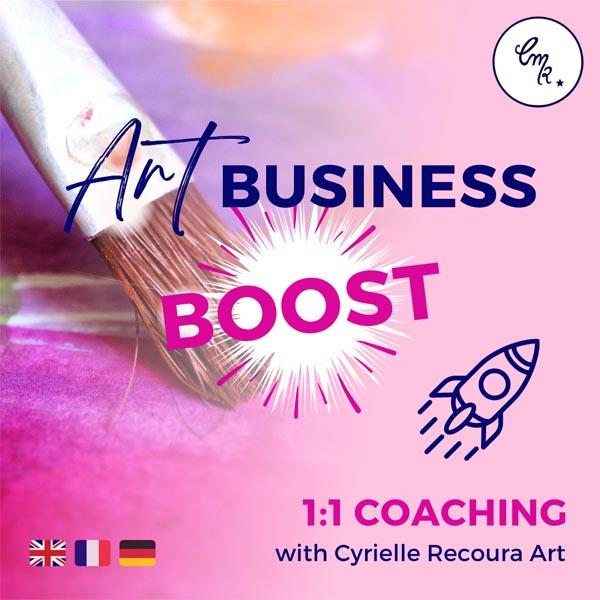 1:1 Artist Coaching – Business Boost – 2 x 75min
MATERIAL: your computer with internet access
ONLINE MEETING: on Google Meet (no worries, you don't need a Google Account). You will be able to pick two dates & times in the confirmation email after booking the coaching.
LANGUAGE: you can choose your language (English, French or German) when you set the meeting.
"Being true to yourself is the first step towards your dreams."
© Copyright Cyrielle Recoura, 2022. All Rights Reserved.