in English, French or German
👉🏼 You'd love to exhibit your art but you have no connections in the art world?
👉🏼 You dream of hosting an exhibition show but you're scared no one will come?
👉🏼 You're struggling to overcome the fear of exhibiting your art?
You are at the right place !
I still remember my first exhibition.
It was April 2018, I had been living in a foreign country for two years and I couldn't make a sentence without one grammatical mistake. I had no art education and obviously zero contact in the art world. I had no family there to support me, no one to give me advice on what to do and not do. The only things I had were my five collages, my bold heart and my motivation.
And yet, I sold all my pieces.
I even received two commissions on top of all of that.
That night, I realized I could do something out of this new passion.
Over the past four years, I've organized 14 exhibitions by myself, in two different countries. This helped me grow my client base exponentially, leading to a percentage of sales of 62% (62 out of 101 original artworks sold – #proud) . At my last exhibition (June 2022), I had over a hundred guests at the opening show and I made close to 3.000€ PROFIT in a just a weekend by applying my marketing strategy !
In this 1 hour coaching session, I'll tell you EVERYTHING I have learned about planning a successful exhibition:
PART 1: How to find the right exhibition place(s)
PART 2: Where to promote your exhibition
PART 3: What you need to do BEFORE the big day = all the practical tips to be ready on the logistics side
PART 4: The Big Day is here ! If the idea of talking to strangers and potential clients makes you unconfortable – or even mortified -, I'll give you tips on what to do & what to say to make it easier… and pleasant even ! If I can do it in my third language with a bunch of grammatical mistakes, you can do it too 💪. I'll also share with you the mistakes I made… and how to avoid them.
PART 5: a fun BONUS to make sure your guests will never forget your event!
PART 6: what to do AFTER the exhibition to turn guests into new customers
This coaching is the right thing for you if...
…you've never had your own exhibition BUT you know it will help you get new customers 🤝
…you've already participated in one BUT you believe you can do better 💪
… you're an introvert & you need a confidence boost to make it happen! 🤩
WHAT'S INCLUDED IN THIS 1:1 COACHING?
✅ 60 min online meeting, just you and me
✅ A phone call before your exhibition (whenever you want, you can decide) to answer all your questions. The goal is to accompany you until the Big Day to make sure you're 200% ready !
To guide you throughout the whole coaching session, I have prepared for you a workbook with:
insightful tips to help you during your 'research' phase
the Do's and Don'ts on the big day
2 important checklists you can use for your next exhibition… and for all the future ones in your artist career!
your first action plan after the coaching
… and so much more 🙂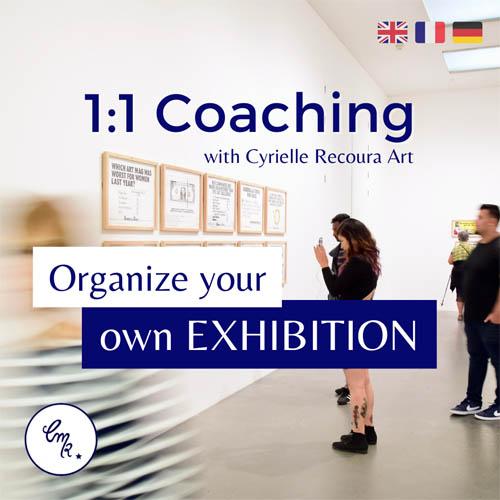 1:1 Artist Coaching – Exhibition – 75min + 1 phone call
MATERIAL: your computer with internet access
ONLINE MEETING: on Google Meet (no worries, you don't need a Google Account). You will be able to pick a date & time in the confirmation email after booking the coaching.
LANGUAGE: you can choose your language (English, French or German) when you set the meeting.
"Success doesn't just find you. You have to go out and get it."
© Copyright Cyrielle Recoura, 2023. All Rights Reserved.