THE DOORS ARE NOW CLOSED.
Leave your email to be notified when they re-open (Spring 2024) and receive my art biz tips: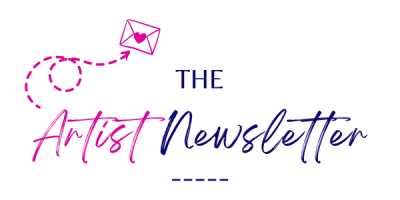 Grow a profitable
email community
for MORE
art sales
and more
freedom
only 5 more seats available !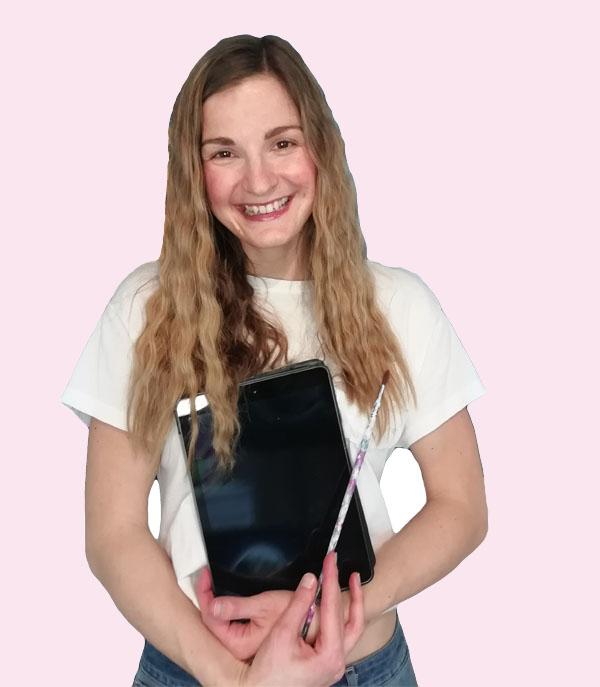 DOES ANY
OF THIS
SOUND
FAMILIAR?
> "I hustle like crazy but I don't see much results !"
>  "Finding people who like my art is easy… but finding paying clients is hell !"
>  "Some days I feel like I'm not good enough to make it as an Artist…"
> "I'm scared I'm gonna rot in my day job."
> "I'm overwhelmed and frustrated by Instagram, there MUST be an alternative!"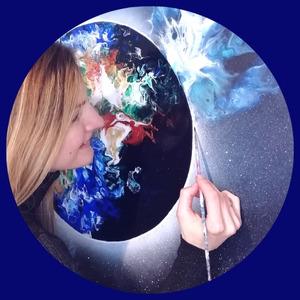 Yeah,

I hear you girl

! Building an Art Business can be exhausting as hell and truly heart-breaking some days. Between work, kids, Instagram, your website, administrative tasks and so on, you feel like there aren't enough days in a week to be able to paint

and

market your art ! But hey,

it doesn't have to be that way

! I wanna show you a path that doesn't eat up all your time and gives you back the energy and space you need to do what you love most:
put on some music and paint
👩‍🎨🎶.
TAKE A MOMENT AND IMAGINE A LIFE WHERE YOU COULD…




Be free of doing your own thing
, following your own path
Turn friends, acquaintances, colleagues etc. into clients through your Newsletter
Sell your art consistently thanks to a loyal client base who keeps buying from you
Be confident when you launch a new collection
because
YOU KNOW
it will sell through your newsletter
Build a long-term
and trusting
relationship with your collectors
Quit your day job in a foreseeable future and become a full-time artist
HEY, WHY DO I NEED AN EMAIL LIST, CYCY?
RELYING ONLY ON SOCIAL MEDIA IS DANGEROUS
: you can lose everything from one second to the next ! With the increasing hacker threats as well as Instagram banning users all the time, you're not safe from losing your account tomorrow. On the contrary,
you own your email list
and no one can ever take it from you.
LESS THAN 10% OF YOUR FOLLOWERS SEES YOUR CONTENT ON INSTAGRAM
, whereas
100% of your emails are delivered to your fans.
PLENTY OF YOUR (POTENTIAL) ART CLIENTS ARE NOT ON INSTAGRAM
, but guess what,
everyone uses email !
I did the math and 75% of my customers don't even have Instagram. If you don't write a
Newsletter
, you can't keep in touch with many of your customers and you'll never get the chance to convert lots of interested people –
who aren't on social media
– into paying clients !

A 5-week live program designed to help you
LAUNCH YOUR OWN NEWSLETTER
and build a profitable email community for
MORE ART SALES & LESS HUSTLE
HOW TO SET UP your own Artist Newsletter 
WHAT TO WRITE and how often you should send your emails
The tricks to SELL WITHOUT "SELLING" !
How to CREATE ENTICING CAMPAIGNS that people are excited to open and read !
THE RIGHT MINDSET to write a successful Newsletter: quality over quantity.
HOW TO GROW YOUR EMAIL LIST: 10+ techniques to build a profitable email community with the right people !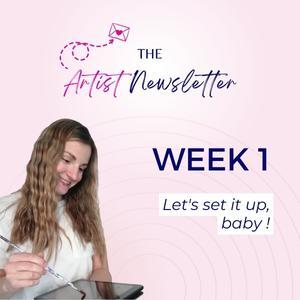 LET'S SET IT UP, BABY!
> We'll jump right into the technical steps to build your own Newsletter ! You'll familiarize yourself with the platform and the email marketing terms, we'll talk about your NEWSLETTER IDENTITY and you'll learn how to build your first landing page and sign-up forms.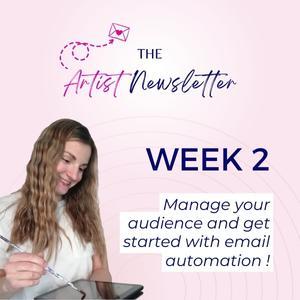 MANAGE YOUR AUDIENCE AND GET STARTED WITH EMAIL AUTOMATION
>  You'll learn how to manage your suscribers using tags and segmentation, how to personnalize your emails, and you'll write your first welcome email !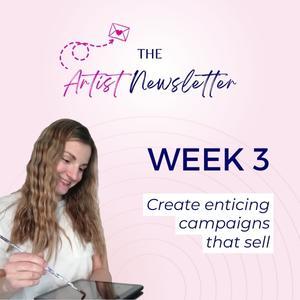 CREATE ENGAGING CAMPAIGNS THAT SELL
>  I'll walk you through the campaign builder and we'll build your first campaign together ! You'll get my very precious pdf with one year of content ideas and a suggested schedule. We'll cover the ways to avoid hard selling, the best time & frequency for your emails and more !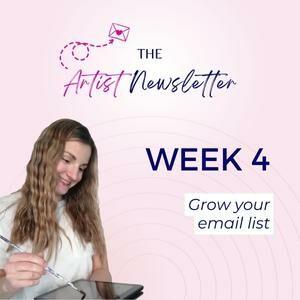 GROW YOUR EMAIL LIST
>  I'll give you 10+ methods to get new people to sign up for your Newsletter ! You'll also learn how to improve your email deliverability and engagement.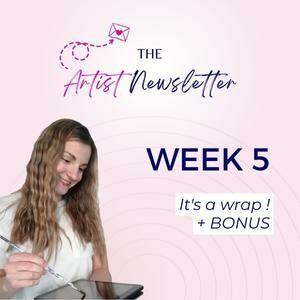 IT'S A WRAP ! + BONUS
>  We'll use this last week to cover any topics we didn't have time to go over in the past weeks (or new things that came up). I'll also give you tips to handle a bilingual community (BONUS) and answer ALL YOUR QUESTIONS to make sure you're ready to make the most out of email marketing!
ONE YEAR OF CONTENT IDEAS FOR YOUR NEWSLETTER WITH A MATCHING SCHEDULE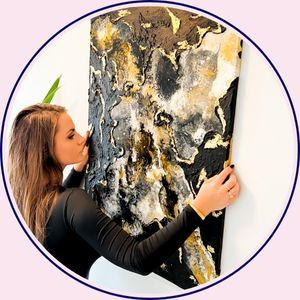 "Cycy, I am incredibly grateful that I met you ! Thanks to you, I have a precise focus and I follow through on my goals. All the ideas we worked on are now put being put into practice! If you wanna get involved in the art business and need a jump start, I truly recommand working with Cyrielle. Thank you very much again 🙏💫."
ALINA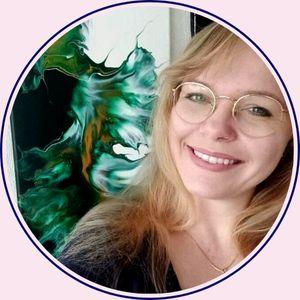 "I decided to work with Cyrielle because I know she's an expert in the Art Business area. We dived deep into my world and Cyrielle gave me the knowledge and space to improve not only my business but also myself. She showed me the fastest way forward to a business that's fulfilling & the perfect fit for myself."
JULIA
Ready to become a Newsletter queen?
*THE DOORS ARE NOW CLOSED*
STARTING DATE: April 20th
The Artist Newsletter officially begins on Thursday, April 20th at 7pm CET. Get EXCITED !
100% LIVE CLASS: We'll meet once a week online (Thursdays 7pm) for a 1h15min live class, from April 20th to May 18th. Save the dates on your calendar !
100% REPLAY: There will be a Replay of every single session to make sure you don't miss a thing.
PRIVATE FACEBOOK GROUP COMMUNITY:  The best part of The Artist Newsletter? You're not alone ! Our Facebook Group is the place where you can get extra support from me & the other artists during and after the 5 weeks of the program.
GET TO KNOW THE
NEWSLETTER WIZARD
BEHIND THE CLASS
HI, I'M CYRIELLE ! (but you can call me Cycy)
I'm an artist just like you :). I'm 100% self-taught and I've built a flourishing Art Business that gives me the chance to live my dream life !
And one of the keys to my success is – you guessed it – my Artist Newsletter !
I've built over the past 3 years a solid email community of fans and collectors who support me by repeatedly buying originals, prints, workshops, calendars…
As an Art Coach, I've been helping dozens of artists build a profitable Art Business that stays true to their own values. And today, I'm very excited to share with you all the secrets of my own GAME CHANGER: Email Marketing !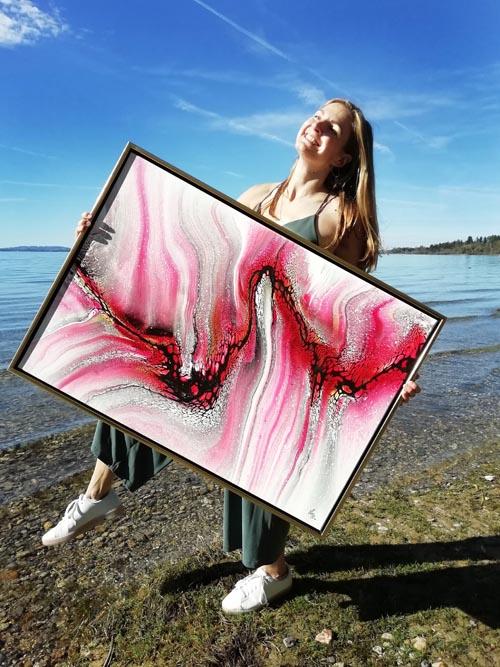 One year into my Newsletter Journey, I generated 4.102€ directly from my Newsletter, with only 160 subscribers at the time ! Compare your number of IG followers and the income you make through it and you'll understand why I believe so much in THE ARTIST NEWSLETTER.
JOIN AN
EXCLUSIVE
EXPERIENCE
ONLY 10 SEATS AVAILABLE: I wanna be able to help each of you individually so only 10 artists will have the chance to join this one-of-a-kind program
VIP PRICE TILL SUNDAY, APRIL 2ND 2023, 23:59: This is your only chance to get your hands on this program for a special price of 219€ instead of 279€ !
*THE DOORS ARE NOW CLOSED*
I WILL BE
WITH YOU EVERY STEP OF THE WAY
, I got you !
If it's the first time you participate in an online live class, you might be a bit stressed about it: it's totally normal ! But don't worry, you'll feel right away comfortable in our online classroom with our small group of kind and inspiring artists 🙂 .


The biggest advantage of a live program? You can ask all your questions and get direct support from me and the other participants during the live. And of course, you can share all your questions and achievements outside the sessions in our private Facebook Group!
I decided to limit the number of participants to 10 artists in order to keep it personal. You'll see, it's gonna be a unique experience full of engagement, collaboration and interaction.


You'll get from me and the group all the motivation and encouragement you need to be ready to launch your Newsletter in less than 5 weeks !
"This french girl is dope when it comes to organizing things and building a business ! Highly recommanded for all my artist followers, since we know that an art business is more than just painting."
LOLA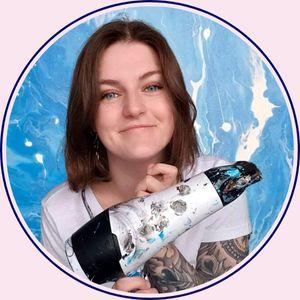 "Hey Cycy, I wanted to say thank you again ♥️. In my everyday life, I notice that I implement more and more what I've learned from you in our coachings. Sometimes I just ask myself: "How would Cycy approach this?" 🤓. You push me to rethink my prices and not to sell myself short. I could talk with you for hours, I can't wait for the next class ! 💪 "
ROSA
THE ARTIST NEWSLETTER IS FOR YOU IF:
>  you're excited to learn new business skills in order to make more art sales
>  you wanna build an email community that cares about you and your art
>  you wanna be part of small crew of motivated artists who're here to support each other
>  you're a busy bee and you recognizes that email marketing generates incredible results with (way) smaller time investment than social media
>  you understand that growth requires investment
THE ARTIST NEWSLETTER IS NOT FOR YOU IF:
>  you are NOT an artist
>  you are at the very very beginning of your art journey: you have very few paintings, no logo, no instagram account, no website, you never showed your art to anyone nor posted about it (in that case, I highly recommand you a 1:1 coaching – reach out to me per email info@cyriellerecouraart.com)
>  you can't make any of the 5 live sessions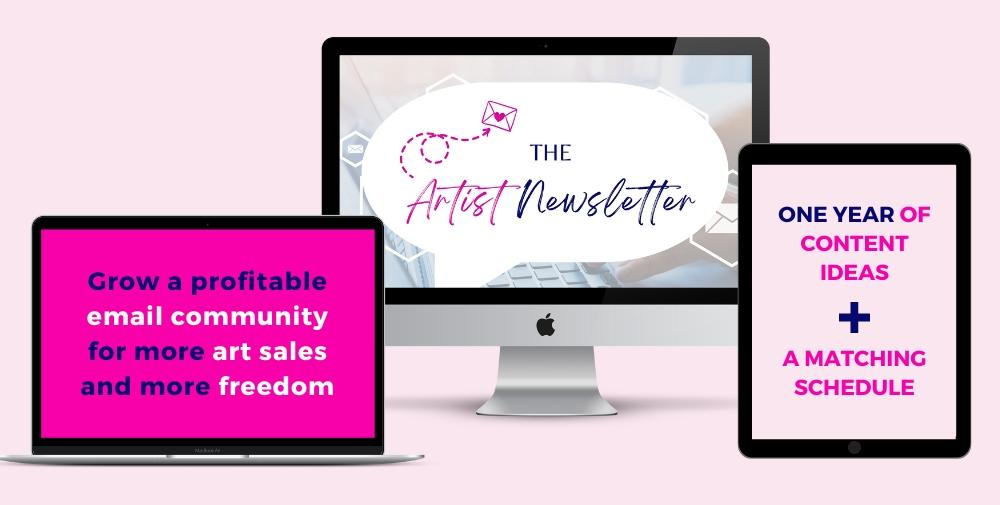 *THE DOORS ARE NOW CLOSED*
I DON'T HAVE A WEBSITE YET, CAN I STILL JOIN THE PROGRAM?
Yes ! The platform we're using gives you the possiblity to create a landing page so you don't necessarily need a website to start. It would be important for your business to build your own website in the future though.
MY CUSTOMER BASE IS VERY SMALL, IS IT TOO EARLY TO START A NEWSLETTER?
You don't need a big client base to start, it's quite the opposite ! The goal of your Newsletter is not only to stay in touch with your current clients but also to turn interested people (friends, acquaintances, people you meet at your exhibitions, followers on IG…) into paying clients.
I WON'T BE ABLE TO MAKE IT EVERY SINGLE THURSDAY, IS IT BAD?
Don't worry, that's what the replays are for ! You'll always have the chance to catch up the sessions you missed to be ready for the next one.
I'M NOT A COMPUTER WIZARD… DO I NEED ADVANCED TECHNICAL SKILLS?
Not at all! I will walk you through everything so you don't have to worry about not understanding the technical steps to create your own Newsletter.
*THE DOORS ARE NOW CLOSED*
© Copyright Cyrielle Recoura, 2023. All Rights Reserved.