THE ULTIMATE ARTIST PACKAGE
12 MUST-HAVE Templates in your Art Business
✓ Artist Portfolio (11 pages)
✓ Certificate of Authenticity (2 designs)
✓ Business Card
✓ Brochure with your offers
✓ Flyers for your exhibitions (8 different designs)
✓ Posters for your exhibitions (4 different designs)
✓ List of Artworks + Data analysis
✓ List of Clients
✓ Artist Invoice
✓ Art Commission Quotation
✓ Artworks Labels for your exhibitions
✓ Sales form for your exhibitions
23 documents in total for only 79€ = less than 4€ per template !
You'll save yourself HOURS of work and research (that you could be spending painting instead
) by getting yourself this one-of-a-kind package
.
The Ultimate Artist Package – only 79€
You'll get the link to download your templates after the Check out and in the confirmation email (no way for you to miss it!)
You live in Germany? 🇩🇪 🥨
You need the special DE-Add-on :
✓ EÜR (Einnahme Überschuss Rechnung) mit Anleitungen und Datenanalyse (Pflicht, wenn du ein Kleinunternehmen hast)
✓ Rechnung für Bilder (deutsche Normen)
✓ Preisangebot für Aufträge (deutsche Normen)
✓ Einwilligung zur Veröffentlichung von Fotos und Videos
Diese Dokumente sind nicht nur wichtig, sondern auch gesetzlich vorgeschrieben. Und du kannst sie hier für nur 29€ Aufpreis bekommen !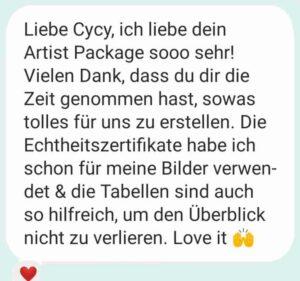 The Ultimate Artist Package + DE Add-On – 108€
Du erhältst den Link zum Herunterladen deiner Vorlagen nach dem Auschecken und in der Bestätigungs-E-Mail (keine Chance, dass du ihn verpasst!)
WHY and WHEN do you need these documents?
✓ Artist Portfolio
​WHY? It showcases your work in a very professional way
WHEN? You can join the pdf to your emails when reaching out to potential clients or galleries for example
✓ Business Card
​WHY? So you can hand it out everytime you speak with someone about your art
WHEN? Simple: you need to have them AT ALL TIMES with you (even at the pool, I don't care how, just find a way 😆)
✓ Certificate of Authenticity
​WHY? It is and looks professional + it shows your collectors that you are aware of the value of your art
WHEN? Everytime someone buys an original artwork from you, you give them a Certificate of Authenticity as a statement: "hell yeah, I'm that good!"
✓ Brochure with your offers
​WHY? It's a great tool to introduce your offers on a compacted format
WHEN? Hand it out or have a pile ready at all your events (Exhibitions, Workshops…)
✓ Flyers & Posters for your exhibitions
WHY? Because no one will come to your exhibitions if you don't promote them!
WHEN? Minimum a month before your exhibition – digital and printed
✓ List of Artworks + Data analysis
​WHY? To keep up with all the original pieces you've done since the beginning: when did you make them, which medium did you use, what size are they, did they get sold, who is the buyer, for which price…
WHEN? Everytime you create a new painting and everytime you make a sale (ok, let's be honest, I often forget and catch up 2 months later but it doesn't matter, it always ends up being up to date)
✓ List of Clients
​WHY? For your Customer Care ! You need to be able to know who your customers are and in particular who your best customers are in order to pamper them 🥰
WHEN? Everytime you get a new client
✓ Artist Invoice
​WHY? Some clients may ask you an invoice, you need to have one (that looks professionnal) ready to go
WHEN? Usually after a sale, mostly from doctor's practices or companies than private persons
✓ Art Commission Quotation
​WHY? Some clients may ask you a quote, you need to have one (that looks professionnal) ready to go
WHEN? Before a commission
✓ Artworks Labels for your exhibitions
​WHY? If you just hang your paintings without any info (this includes your contact information but also the price), no one will reach out to buy them!
WHEN? Before each exhibition (you can reuse the labels of the artworks you haven't sold.. until you increase your prices 😉)
✓ Sales form for your exhibitions
​WHY? Not to forget who bought this postcard or that calendar (usually we don't forget who buys original paintings)
WHEN? Print it out before your exhibition and fill it out when you make a sale 😃
The Ultimate Artist Package – only 79€
"Work smarter, not harder"
© Copyright Cyrielle Recoura, 2022. All Rights Reserved.